---
• Death Cab makes their Saturday Night Live debut on
January 14, 2006
. Scarlett Johansson hosts ! More info on SNL can be found
here
. Mark your calendars, guys !
• Ben will be playing a solo acoustic show in New York City on
Tuesday, January 10 2006
at the Bowery Ballroom. Joining him on the bill are Matthew Caws of Nada Surf and Andrew Kenny of American Analog Set. Tickets are $20 and the show is 18 and over. Tickets can be purchased
here
.
• 'Plans' has been nominated for a Grammy Award in the 'Best Alternative Music Album' Category ! It is up against some stiff competition as the other nominees are the Arcade Fire, The White Stripes, Beck, and Franz Ferdinand. The winner will be announced on
February 8, 2006
. I'm sure we'll all be cheering for Death Cab !
• Death Cab has finally spawned off of their Barsuk Labels site and off on thier own web site. If you have not checked it out yet, do it !
DeathCabForCutie.com
---


Death Cab is currently taking a break from touring for some much need rest and then to record their next album. Much thanks to everyone who showed up over their last fourteen months of touring.
---
deathcabforcutie.com
With up-to-date tour dates, journal entires from the band, a full disography and more !
---
epitonic.com
Featuring a few older death cab mp3 tracks - a great place to start off.
death cab @ itunes
Death Cab For Cutie music store exclusives, purchase and download all death cab's albums and burn them to cds !
---
barsuk.com
elsinor records
---
---
The Long Winters
The Postal Service
The Shins
Mates Of State
Cat Power
Kind Of Like Spitting
John Vanderslice
---
melissajune
July 31, 2009
---
God I love making lyric icons.

20 Death Cab for Cutie Lyric Icons









here at
poltergeistlove
April 13, 2009
---
Looking for ONE Ticket to the show on May 7th in Orlando

THANKS!

Email: jeff.vonada@gmail.com
January 10, 2009
---
I know this is a Postal Service question and I hope that's not considered blasphemy here, but I'm in need of a slow version of Such Great Height. My fiance wants it to be our first dance but a slower version than on the album (if such a thing exists). I know of the kind of creepy guy from Garden State, but she really wants a Postal Service version. I tried slowing it down myself but it really messes up the vocals. Anything, live, acoustic, etc. is fine. Thanks for any help.

x-posted
December 24, 2008
---
[13] The Decemberists
[14] Eternal Sunshine of the Spotless Mind
[09] Death Cab For Cutie; I Will Possess Your Heart Video
[09] The Office (US); Weight Loss
[07] Spring Awakening
[04] xkcd
[04] Banners; I Will Possess Your Heart Video
---> 60 Total






- Blanks are not bases
- Comment if taking
- Credit
faultycameras in keywords
- No hotlinking
- See my journal for details

See the rest HERE @ my journal
August 16, 2008
---
i interviewed nick last month for bombshellzine.com - you can have a read of the transcript here.
August 15, 2008
---
DEATH CAB FOR CUTIE PERFORMED IN SINGAPORE & IT WAS AWESOME.


Technicolorrave.blogspot.com
August 09, 2008
---
I cleaned out my closet and I'm selling a ton of magazines and posters.

I've got the Sept 2005 issue of Spin magazine that the guys were on the cover of for sale. I want it to go to a good home, and not in the trash so I thought I'd give you guys here a heads up :)

I've got a ton of magazines and stuff for sale, I really want to get rid of all of it. If you're interested, click here

Thanks :)

x-posted, sorry!
May 15, 2008
---
I'm trying to sell tickets for this year's Bonnaroo Festival so I can get free tickets to go see Death Cab on June 15th so if you are going, please get your tickets from here...

Thanks!


May 08, 2008
---
Hey, I'm going to see Death Cab for the first time in June, at the Nokia Theatre LA Live (so excited!). I received my tickets in the mail today and saw that I'm in the Orchestra section.

Now the Nokia Theatre is a relatively new venue so I don't know if any of you have been there, but I was just wondering if any of you knew whether the Orchestra would be standing room, like general admission, or if it would be seats? Just so I know if I should arrive early, ya know?

Thanks in advance! :)
April 19, 2008
---
They've made a video for the new track.
Check it out : )

http://www.youtube.com/watch?v=PsCV61zsdtA (Short Version)
http://www.youtube.com/watch?v=pq-yP7mb8UE (Extended 8 Minute Version)

Also, does anyone have any demo's they'd like to send?? I've been listening to the Lightness demo off the Drive Well DVD and wondered if there was any more??
Thanks.
March 31, 2008
---
Upcoming tour dates ...

04/18 - Bremerton, WA
04/19 - Eugene, OR
04/21 - Arcata, CA
04/22 - Davis, CA
04/23 - San Francisco, CA
04/24 - Las Vegas, NV
04/26 - Indio, CA - (COACHELLA)
05/09 - Providence, RI
05/10 - Boston, MA
05/24 - Bend, OR
05/28 - Morrisson, CO
06/09 - Columbia, MD
06/13 - Cleveland, OH
06/15 - Manchester, TN (BONNAROO)
06/17 - Grand Prairie, TX
07/27 - Premberton, BC

I'll be at the Cleveland date. How about everyone else.
Info here.

March 20, 2008
---
You can stream the new single "I Will Possess Your Heart" here
xposted
March 05, 2008
---
Hello! I'm working on finishing a Death Cab mood theme and I was wondering if you guys can help me find pictures for these tricky moods:

envious
nauseated
quixotic
restless
sore
thankful

Any help is really appreciated! I'll post the theme here when I'm finished.
February 12, 2008
---
Thought I'd share this with everyone.

http://death-cab-for--cutie.deviantart.com/
January 27, 2008
---
[12] Death Cab For Cutie - Clark Wang photography
[12] Juno
[10] Twilight - Robert Pattinson
[13] J.K. Rowling & Jo on PotterCast quotes
[09] Ron & Hermione
[02] Banners - Death Cab & Harry Potter
---> 58 Total






- Blanks are not bases
- Comment if taking
- Credit
faultycameras in keywords
- No hotlinking
- See my journal for details

See the rest HERE @ my journal
January 14, 2008
---
November 18, 2007
---
Does anyone have an MP3 of Death Cab's version of the "Weeds" theme song?
November 14, 2007
---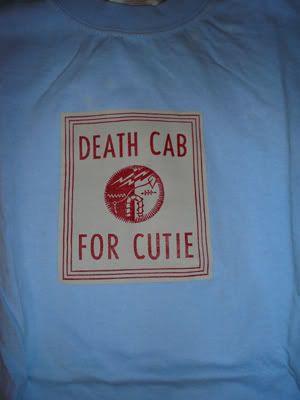 scientist shirt (youth large)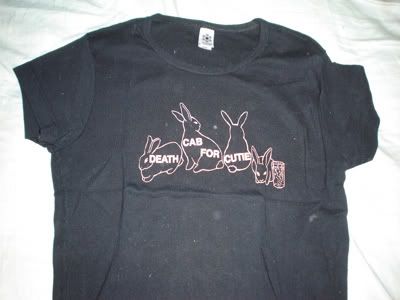 bunnies (girl ringer med/one size)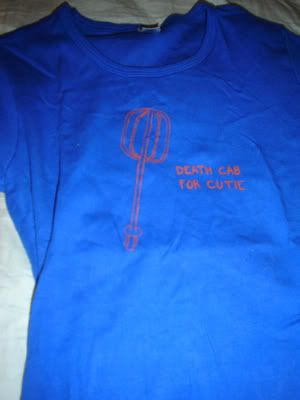 egg beater shirt (girl ringer med/one size)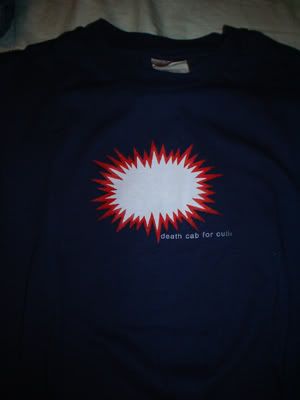 pop! (adult small)

$20 per shirt
-OR-
$70 for all 4
October 27, 2007
---
Check out
thesensations
thesensations is a community where you can meet new people with common interests in music as you. They're are always posts about news in music, and there are very few rules to the community. So, go join
thesensations today!
September 29, 2007
---
Hey everyone. If this isn't allowed, please let me know and I will delete it.
I recently lost most of my music off of my hard drive. I've replaced most of it, but I'm missing a few DCFC songs that are rare/from compilations.

I was wondering if any of you could send them to me. Any help is wonderful. Thanks.

What I'm looking for...
This Temporary Life (from Future Soundtrack of America)
Dream Scream (from Daniel Johnston Discovered, Covered)
Rocking Chair (from Endless Highway: Music of the Band)
World Shut Your Mouth (Crooked Teeth B-side)
Talking Like Turnstiles (Crooked Teeth B-side)
Jealousy Ride with Me (Soul Meets Body B-side)
July 27, 2007
---
Hey guys! If you live in the DC area & are interested in promoting your favorite bands like..Cute Is What Aim For, Paramore, DEATH CAB, Envy On the Coast, Funeral For A Friend, Jet, Kill Hannah, Billy Talent, This Providence, and The Academy Is.. send me an e-mail at atlanticindc@yahoo.com and I'll give you all of the details what you'd be doing and the great opportunities that you'll have (including free show tickets, merch, and even meeting the bands).